About Canalicchio di Sopra
Founded in 1962 by Primo Pacenti, Canalicchio di Sopra remains family-owned. Situated in the northern zone of the municipality of Montalcino and in the middle of the Val d'Orcia, the farm covers 60 ha, 15 of which are cultivated with vines and 2 with olive groves.
The Brunellos of the estate largely reflect the wine's historical paradigm, a character derived, in part, through 36 months of cask aging, and 1 year in bottle.
The northern zone, the area relative to Canalicchio, has a cooler climate than that of its southern counterpart; this northern terrain receives limited exposure to both the Mediterranean influence of Montalcino and the cooling breezes that the latter's high altitude affords, resulting in wines that display impressive ripeness and structure.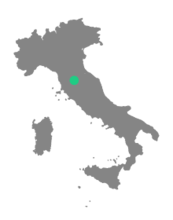 Loc. Casaccia, 73
53024 Montalcino (SI) Italy