ABOUT BELLAVISTA
Bellavista is the embodiment of the dreams and drive of the Moretti family, shaped by the philosophy and hard work of its forward-thinking founders and inspired by the beauty of the Franciacorta landscape.
The Franciacorta region that is home to Bellavista, is a D.O.C area located in the province of Brescia in the eastern part of Italy's Lombardy region. It's a land that gives a great deal but also asks for a great deal back. It is not enough just to harvest the fruits; one must sense their potential, select them with care and preserve their qualities by picking them one by one.
The circle of hills that stretches from the alpine foothills to the two opposite banks of Lake Iseo and Monte Orfano was shaped like a gigantic ice flow. A store of light, water and energy that creates a unique representation of the wine-growing culture that has found here the ideal location for Bellavista.
At Bellavista, the concept of wine-making drives vine growing and sublimates its process. The Moretti family has chosen to respect the land, as a promise to themselves and to the many young people who are rediscovering its value, finding authentic pleasures and virtues in the land itself.
One hundred and ninety hectares sown with Chardonnay, Pinot Noir and Pinot Blanc vines are divided into 147 plots located in 10 different Franciacorta municipalities. Such a painstaking subdivision is the result of a resolute insistence on observation that attempts to assimilate, understand, review and translate each component that might define the unique personalities of the vines. Because the personality of a cuvee` cannot be invented, it is merely discovered.
The Morettis maintain that grapes only require one thing; respect. Picking each bunch by hand; keeping the grapes of one vineyard separate from the others; pressing gently; preparing hundreds of small parcels of fine grapes for the fermentation; listening to the must becoming wine, creating the cuvee` and then waiting another four, five, or six years for it to mature; entrusting the final touch of remuage to capable hands.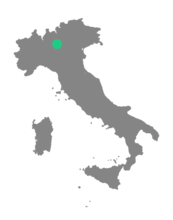 Cantina Bellavista
via Bellavista 5, 25030 - Erbusco (Bs) - Italia