About Cav. G.B. Bertani S.r.l.
Bertani is famous for having one of the finest regions in Italy for it's vineyards.
The Verona area is a varied territory with a long wine-producing tradition. Today Bertani boasts the largest number of DOC wines in the whole country with wines such as Valpolciella, Soave and Amarone, long famous throughout the world.
Bertani was the company that realised the great value of this area and the great opportunites it offered for
promoting Italian wine around the world. By improving the quality of the vineyards and adopting the wine-making culture learnt in France, the company succeeded in selling Italian wine, particularly Veronese wine abroad.
Today Bertani owns about 200 hectares of vineyards spread across all the main Verona wine-producing areas.
From the gently slopes of the Valpolicella, with its uniquely mild climate due to the promximity of Lake Garda and the Lessini mountains, to the Valpantena and the lakeside territory of Bardolino and the eastern most hills of Saove, Bertani has nurtured and protected its grapes to bring out the best of the specific features of each area.
Bertaini have been awarded one red star having won at least ten "Tre Bicchieri" awards in 25 editions of Italian Wines. They are the elite, the aristocracy, in short the very top flight of Italian wine - Gambero Rosso 2012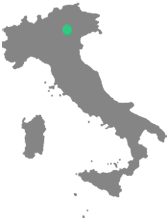 Via Asiagol – 37023 Grezzana (VR) Italy