About Col Vetoraz
Prosecco is a fascinating wine for its gentleness, its suppleness, its moderate body and its velvet smoothness. It is a harmonious and graceful wine, and one that begs to be sipped.
The Treviso foothills, and especially the hills that run from Valdobbiadene to Conegliano, have for centuries proven their pedigree in the cultivation of the vine. Most of the grapes grown in Valdobbiadene are today used for the production of sparkling wine. Valdobbiadene-Conegliano Prosecco Spumante has received increasing recognition in recent years, becoming the best recognised and most demanded Charmat-method sparkling wine in the world.

Col Vetoraz lays on one of the highest spots in Cartizze, 400 metres above sea level.

The Miotto Family settled down in Col Vetoraz in 1838 and started growing Prosecco and Cartizze grapes. In 1993 Francesco, a direct descendant of Miotto family, together with Paolo De Bortoli and Loris dall'Acqua established the current Col Vetoraz.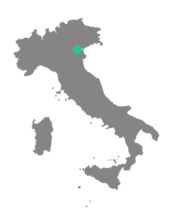 Via Treziese, 1
31049 Valdobbiadene,Treviso, Italy