Varieties & Vintages
Linea Classica
Linea Cru
*C.o.F DOC= Colli Orientali del Friuli
Linea Gran Cru
About Livon
The Livon winged woman, an unmistakable symbol for those who want to taste a special world
The Livon Family are now one of the most respected and renowned Friuli wine producers. A story which has its origins in passion and family traditions.
Livon's reputation for excellence is in the production of the varieties that are true to the history of Friuli: Pinot Grigio, Friulano and Refosco. Livon's 'Braide Alte is comprised of Chardonnay, Picolit, Sauvignon and Moscato Giallo, and is fermented in Allier barriques.
Livon's other new pristine whites are Soluna di Malvasia (100% Malvasia) and the Solarco – a lightly wooded wine made from Tocai Friulano, Ribolla Gialla, Sauvignon and Pinot Bianco.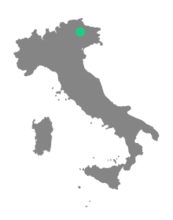 > View on Google Maps

Via Montarezza, 33
33048 San Giovanni al Natisone
Province of Udine, Italy