About Garofoli
The history of Garofoli is a story of people and of a family that has been identified with wine making for five generations
The Garofoli family has always been guided by a philosophy: the constant updating of production techniques while respecting traditional and historic winemaking methods; attention to the evolution of the market and its requirements along with loyalty to the values of the special characteristics that the traditions of the territory have transmitted.
Now owned and run by brothers Gianfranco and Carlo, Garofoli produces its wines in two famed Marche production zones: Serra de Conti within the Castelli di Jesi DOC production zones, where their Vedicchio grapes are vinified using the most modern techiques, and Castelfidardo in the heart of the Rosso Conero DOC production zone.
The resutling wines reflect their strive for excellence. "...our labels are simply the expression of our continual desire to improve ourselves".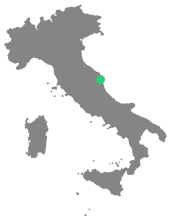 Head Office: Via Arno
9 - I-60025 Loreto (AN)
Winery: Via C. Marx
123 -60022 Castelfidardo (AN)