About Sardus Pater
The "Cantina Sardus Pater", is situated on the island of St Antioco, on the south-western part of Sardinia. Founded in 1949 as a wine growing co-operative, the first wines were produced in 1955.
Sardus Pater specializes in the cultivation and production of the DOC Carignano del Sulcis (100% Carignano) on low yielding vines, many of which are over eighty years old.
Since 1994, the pride of white wine production has been the unwooded Vermentino di Sardegna, selected from growers with partcular care to insure the traditional perfumes and tastes.
Each bottle of Sardus Pater wine is the result of wise grape selection, winemaking carried out in accordance with ancient rules and modern winemaking techniques to provide the highest quality wines possible.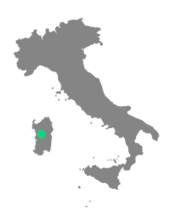 Via Rinascita 46,
09017 Sant'Antioco Carbonia-Iglesias, Italy