About Azienda Giorgio Meletti Cavallari
Giorgio Meletti Cavallari's winery is along the Tuscan Riviera, in one of Italy's most famous vine-growing areas, where Bolgheri DOC is produced. The Borgeri and Impronte are produced by respecting terroir and utilising the typical vines of Bolgheri DOC, but also expressing the strong bond between the wine and its producer's character.

The Borgeri is the pure and simple expression of the Bolgheri terroir. Borgeri derives its name from the old name of Bolgheri found on a geographical map made by Leonardo da Vinci during one of his many expeditions.

The Impronte is Giorgio's Cru wine. The grapes come from the Piatraia vineyard and is a wine that expresses perfect balance between power and elegance, blending Cabernet Sauvignon and Cabernet Franc.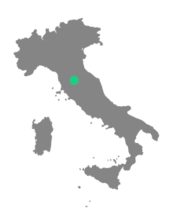 Via Casone Ugolino, 12
Castagneto Carducci 57022 (LI) Toscana