About Cincinnato
The Cincinnato Legacy: 70 Years of history, 550 ha of land, 130 grower families, and the entire rural community of Cori
The volcanic hills of the ancient village of Cori, set amongst olive groves and vineyards south of Rome, is host to the highly technological Cincinnato winery in a harmonious melding of ancient history and modern wine-making practices.
The name Cincinnato honours the 5th century BC Roman statesman Lucius Quinctius Cincinnatus who, after victory in the war against the Aequi in 458 BC, retired home to to take care of his landed estates, making him an example for patriotism and indifference to power and politics. The Cincinnato logo represents Cincinnatus working on his farm, his oxen ploughing the soil.
Today, Cincinnato is deeply conscious of the importance of typicity and biodiversity, and for this reason has always been committed to the regeneration and showcasing of native grape varieties such as Nero Buono and Bellone.
The winery strives to minimise its environmental footprint through adopting organic methods in the vineyards, a photovoltaic energy system ensuring independent power generation and local distribution using natural gas-fuelled vehicles.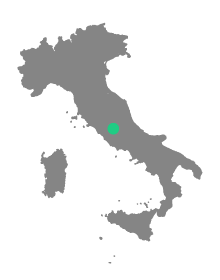 KM.017
300 Via Cori Cisterna
LT 04010 Cori, Italy