Varieties & Vintages
Linea Classica
Linea Cru
Linea St Valentin
About St. Michael - Eppan
"We handle the gifts of nature with great respect, closely analysing their properties and treating them with the utmost care throughout every phase of vinification."
At the heart of the impressive vineyard landscape of the South Tyrolean, scattered among the sunny slopes and hidden in age-old estates, we find the farmhouses of the 350 members of the San Michele-Appiano winery. Numerous international awards testify to the unrivalled success of their unremitting search for quality. Hans Terzer, chief wine maker of the "San Michele brotherhood" and widely renowned wine wizard has unerringly paved the way to top quality.
Today, the vaulted cellars of the hundred-year-old building store a wide variety of first-class white and red wines, modern labels and time-tested classic wines alike, which are sold to more than 30 countries worldwide.
Like a fortress the San Michele-Appiano winery towers above the South Tyrolean wine route. Founded in 1907, the winery has come to be one of the largest and most successful wine businesses of South Tyrol and, indeed, of Italy.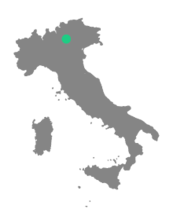 Via Circonvallazione,
39057 Appiano Sulla Strada del Vino
South Tyrol, Italy