About Tenute Silvio Nardi
'I want our wines to express the essence of every vineyard in that unique area of Tuscany known as Montalcino' -Emilia Nardi
In 1950, Silvio Nardi, father of the present owners, driven by his personal passion for wines, bought Casale del Bosco Estate located in Montalcino. In 1958, when the Brunella Consortium didn't exist yet and Montalciono wasn't but a small unknown village, the first Brunella bottles come out from the cellars of Casale del Bosco. It is now that they can confirm Silvio Nardi was the 'first foreigner' to invest in the Montalcino area.
In 1962 Manachiara Estate was bought with 40 hectares of vineyards and within 25kms of Casale del Bosco. Nowadays, Manachiara gives the name to the very precious brand Brunella cru of the company.
In 1985, Emilia Nardi, Silvio's youngest daughter, made her entrance into the company. In 1990, Emilia took over her father's company and with the help of her brother began to make important changes to the wines production process and the company's direction.
Tenute Silvio Nardi is 36 vineyards of an untouched and beautiful territory. Aware of what this magnificent land holds, Tenute Silvio Nardi aim to express the essence of every vineyard in the area through their products.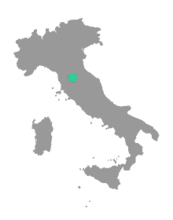 Loc. Casale Del Bosco 53024 Montalcino (SI) Italy