About Castello di Querceto
The castle is completely surrounded by the green Chianti hills, enclosed by vineyards and woods.
Castello di Querceto is located in the north eastern side of the Chianti Classico area, in a small valley in the commune of Greve in Chianti at about 470 metres above sea level. It's land extends over 190 hectares: 60 are planted with vineyards, 5 with olive trees while the remaining are woods, mostly of oak and chestnut trees.

The estate is developed around the castle and the winery, where the new and modern structures have been built respecting the style of the ancient buildings. The vineyards and the olive-groves are located between 400 and 530 metres above sea level.
The grapes are mostly red, only a little percentage is composed of white grapes. Among the red varieties the most important is Sangiovese Grosso, then come the Canaiolo Nero, Cabernet Sauvignon, Cabernet Franc, Syrah, Colorino, Merlot, Mammolo, Cigliegiolo and Malvasia Nera.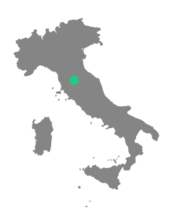 Via A Francois 2 - 50020
Greve in Chianti (FI) Italy