Pieve Santa Restituta
The Pieve Santa Restituta estate was acquired by the Gaja family in 1994.
There are some similarities between Sangiovese from Tuscany and Nebbiolo from Piedmont: for over 150 years these two indigenous varieties have produced the most renowned Italian wines, famous for their uniqueness, history and prestige. The name Pieve Santa Restituta derives from the ancient Pieve (church) situated in the middle of the estate and owned by the clergy until the early '70s.

The vineyards are in a particularly privileged position, facing south and south-west, with an altitude ranging from 320 to 350 m above sea level. The hills, of the Eocene age, overlook the sea and are characterised by a slightly windy, dry and bright microclimate.

All the Pieve Santa Restituta wines are made from estate owned vineyards.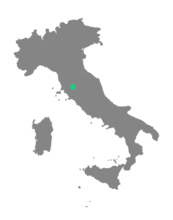 Loc. Chiesa Santa Restituta,
53024 Montalcino
Province of Siena, Italy