About Cantina Tondini
Tondini's Winery was born in 2004 with the main objective of producing high quality grapes and wines; the first production was made after the 2004 harvest. The vineyards are located over 25 hectares of land. 18 hectares are dedicated to the Vermentino of Gallura DOCG, 3 hectares to the Moscato and 4 hectares to the red grapes typical of north Gallura area such as Nebbiolo, Sangiovese, Dolcetto, Caricagiola and Cannonau.

Located in the most important area for the production of Vermentino, the over 20 year old vineyards face south-east with an altitude between 300 and 400 mt. and lay over a granitic soil. The climate is of a unique kind, with temperature variations of even 25 degrees. During the grapes ripening period the temperature can vary from 30 C° during the day, to 6 C° at night. These environmental characteristics make this land the ideal place for the growth of the Vermentino di Gallura.

The vines are grown over a wall bars structure and are pruned with Guyot method. The cultivation density is around 4.500 vines per hectare. The companies constant dedication to the maintenance and care of the vineyards is ultimate secret towards the production of high quality wines.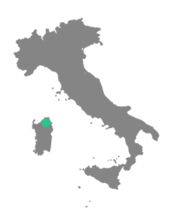 Loc. San Leonardo
07023 Calangianus (OT) Sardegna, Italy