Categories
"Very close to perfection"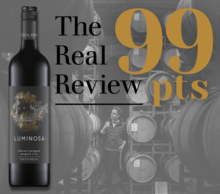 13 April 2022
The 2019 Luminosa Cabernet Sauvignon by Margaret River maestros Stella Bella launches to critical acclaim, with a 99 point rating from The Real Review...
According to the team at Stella Bella, "Luminosa Cabernet is a true creation from the vineyard, farmed with a higher level of attention to detail and hand crafted to achieve a wine with fruit purity, elegance and complexity. So to hear a reviewer describe this wine as "... very close to perfection" makes all the blood, sweat and tears worth while."
Here's what The Real Review's Stuart Knox had to say about this delectable drop:
"Deep ruby-red core into a bright purple rim. The nose lifts with blueberry and cassis, underscored by a hint of cigar box and wakame. Power with poise, the fruit is perfectly-ripe black and blue berries, layered amongst this is a line of umami salinity and a softening spice and cedar-wood element from thoughtful oak use. The tannins are fine and supple on entry, building their presence as the wine's power builds in synchronicity. That intensity and flow carries it along to the finish, which when it eventually arrives is a clean and perfumed delight. This is very close to perfection."
Read the review at therealreview.com (subscription required).
The 2019 Luminosa Cabernet Sauvignon is available soon from Twelvebottles and we anticipate plenty of interest, so make sure to get in quick and don't miss out on your allocation of this iconic wine.
Trade customers contact your Account Executive for more information.
For all other inquiries call our Customer Service team on 1300 232 844 or email orders@twlelvebottles.com.au.
See here for tasting notes: