Categories
Amarone: the wine at the heart of Valpolicella

10 November 2021
Amarone... the very name conjures images of a strong, powerful red. Despite a rather "accidental" foundation, right from the start this northern Italian style gained favour with wine lovers in Italy and abroad, establishing its place over the years as arguably one of the best dry red wines of all time and the wine that perhaps best symbolises its territory. And the historic Bertani is one of its greatest protagonists...
ORIGINS.
The name Amarone - amaro meaning "bitter" in Italian - dates back to 1936 where it originated in the vineyards of Valpolicella, the name distinguishing it from the sweet Recioto - until then the more prized of the area's styles and with which it shares its vinification method. Villa Novare, in what is now the Valpolicella Classico production zone, is where the Amarone story began…rather unintentionally. The story goes that cellar master Adelino Lecchese overlooked a barrel of fermenting Recioto in the cellars. The contents of the forgotten barrel continued to ferment, converting all the sugar to alcohol. When Adelino eventually discovered the barrel and tasted its product, he found its intense, dry flavour surprisingly pleasing! And the legend was born.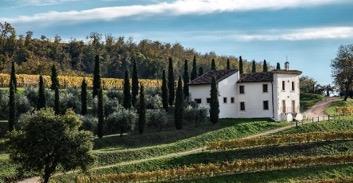 Villa Novare

AMARONE DELLA VALPOLICELLA DOCG.
Despite its long history, Amarone della Valpolicella only achieved its own DOCG status in 2010. Located in one of the most prestigious wine territories in Italy (boasting the largest number of DOCs and DOCGs), the Valpolicella wine region stretches over three zones at the foothills of the Italian Alps, just north of Verona: Classico, Valpantena, and Est. Although all three can produce excellent wines, it's the Classico zone – the original Amarone production area that we look to for quality.
The appellation's strict regulations command that the style be produced in the appassimento method from autochthonous Corvina Veronese and/or Corvinone with the addition of Rondinella and/or Molinara grape varieties, all of which are only grown in Valpolicella, in an area of only around 20,000 acres.
Key production rules include air-drying the grapes for 3 and a half months after harvest to reach a minimum potential alcohol level of 14%. Residual sugars for a 14% alc/vol can be no more than of 9 g/L up to about 12 g/L for higher alcohol wines. The wine also requires an extraordinarily lengthy aging period - 2 years minimum, with a further 2 years minimum for a Riserva.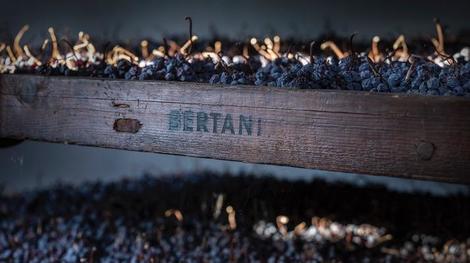 Bertani grapes at rest
BERTANI AND THE TRADITIONAL APPASSIMENTO METHOD.
Founded in 1857 by brothers Giovan Battista and Gaetano Bertani, Bertani is the producer arguably most synonymous with Amarone on the international wine stage: already one of the first producers in the area, in 1957 the Bertani family bought Tenuta Novare, the prized property at the heart of the Amarone story. The property is in the original, classic subzone of Negrar, nestled in a natural amphitheatre of woods and vineyards, with a water supply guaranteed by seven natural springs.
Bertani produced its first vintage Amarone, then labelled "Recioto Secco Amarone" in honour of its origins, in 1958 and has since produced another 44 vintages in the traditional appassimento method, up to the current 2011 vintage. This last vintage is the result of 3,022 days of working and waiting:
- 20 harvesting
- 103 rest in the drying room
- 50 fermentation
- 2,544 barrel aging
- 305 resting in the bottle
Clearly, production is labour-intensive, long and painstaking: harvest is done by hand and grapes carefully selected as not all bunches are suitable for the lengthy drying period. Thirty percent of the yield is destined for the traditional drying lofts – fruttai – where it is lain in a single layer in bamboo arèle (drying racks) for around 100 days. The grapes must be perfectly healthy, the skins undamaged and the clusters uncrowded to allow for air circulation around every grape. Bertani refers to this phase as the "messa a riposo" or resting phase and use only natural ventilation - no fans.
During these months of drying the grapes increase in sugar concentration but lose about 40% of their weight, meaning twice as many grapes go into an Amarone compared with other dry red wines. Crushing takes place in early January. Due to the higher sugar content and to vinification being undertaken during the winter, fermentation takes around double the time of other wines.
Add to the process a staggering 7 years aging in Slavonian oak and almost a year's refinement in the bottle and it's easy to see why this Amarone is so highly valued. The long maturation process gives it considerable cellaring potential. If stored properly it'll evolve for another 20 years, making it a very attractive "investment" wine.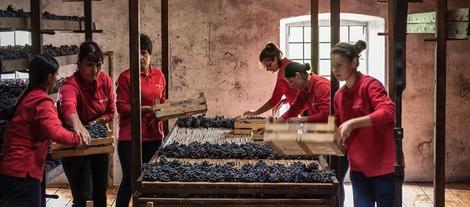 Bertani's "messa a riposo"
WHAT DISTINGUISHES BERTANI'S AMARONE?
In the words of Ernesto Barbero, Cellar Master of Casa Vinicola Bertani from 1959 to 1989:
"There are two ways of being an Amarone. One is to be an exceptional wine with impressive concentration, power, alcohol, extracts and longevity. The other is to be a great red with more human qualities, a more moderate degree of alcohol – fresher and easier to drink…
The extraordinary nature of the first type has brought Amarone to the centre stage of the international scene, but it has one shortcoming. We never know when to drink a wine like this. The second type has less personality and can be confused with other great reds.
I believe that Amarone Bertani has struck a balance between these two versions. It's a wine that's larger than life".
The international wine community largely concurs as the Bertani Amarone della Valpolicella Classico 2011 has garnered accolades aplenty: Gambero Rosso have awarded "Tre Bicchieri", Bibenda its "5 grappoli", and James Suckling rated it among his "Top 100 Wines of Italy" with a score of 97 points.
"Density and dryness that really comes together here, after almost 10 years in bottle. It's very deep and vertical on the palate. Very pure and beautiful crushed cherries, dried flowers, carbon and pumice. Wonderful all round. Drink or hold." - James Suckling, 16 Aug, 2019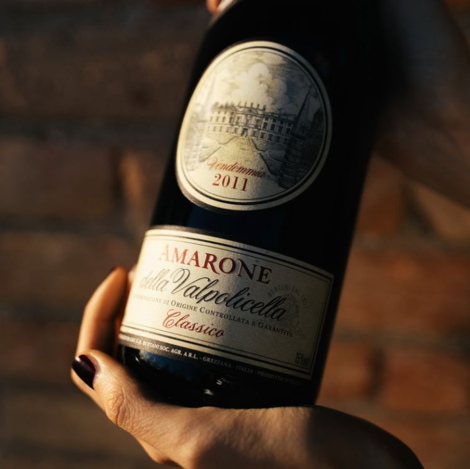 Bertani 2011 Amarone della Valpolicella Classico DOC
SO HOW DOES IT TASTE?
Bertani's Amarone is an iconic wine, full of personality, where elegance always prevails over power. Complex, balanced and well-orchestrated, with extraordinary longevity. Best savoured after decanting for an hour or two to make the most of its strong flavours and aromas.
According to Chief Operating Officer of Bertani Domains, Andrea Lonardi, the wine is "complex, tense, assertive and dry with incredible aging potential. Intense and spicy with pleasant notes of citrus fruit and alcohol-preserved cherries. On the palate, dense, vibrant tannin with a savoury Bertani style finish."
It perfectly complements red meat, game, mature cheeses as well as rich meat lasagne, but also works beautifully as an after dinner "meditation" wine.
An eloquent symbol of the Bertani style.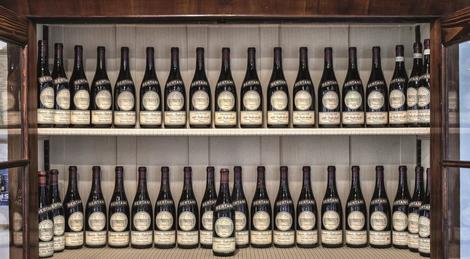 Images: Bertani