Categories
The Real Review Recommended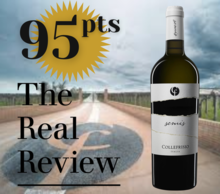 25 February 2021
We're chuffed at The Real Review's 95-point gold rating of Collefrisio's 2016 vintage Semis Bianco Terre di Chieti IGT...
And we know the team at The Real Review are quite discerning with their scores. Here's what Huon Hooke had to say about the Trebbiano, Falanghina and Pecorino blend:
"Deep, rich, golden-yellow colour, indicating a wine of some age or/and barrel fermented. The bouquet confirms both of the above. It is richly-toasty: roasted hazelnuts and dried-floral notes, which turn super-spicy on the palate. A lovely wine, loaded with flavour, but not heavy or clumsy. The balance is excellent, the palate line is seamless. A quite gorgeous wine, albeit full-bodied and mellow, in a style similar to, say, an aged chardonnay".
New vintage 2019 Filarè Trebbiano d'Abruzzo DOC and Vignaquadra Pecorino Terre di Chieti IGT also rated solidly with bronze recommendations:
The Filarè Trebbiano -
"Very light straw-yellow hue. A very dry and savoury bouquet which suggests dry straw or hay. Hints of dried flowers as well. The taste is fruity and just off-dry, that dab of sweetness rendering it very commercially astute. Straightforward flavour. A well-made wine."
And the Vignaquadra Pecorino -
"Light straw colour with a shy, elusive bouquet which suggests dried flowers and dried herbs with a slight smoky overlay. The taste is delicate, dry and restrained: a wine that has a lot of drinkability and would be very food-adaptable. Mild personality; cleansing dry aftertaste. The restrained but fine floral aromas (almost riesling-like) grew as the wine aired in the glass."
Read the full reviews at therealreview.com (subscription required).
All wines available now from Twelvebottles.
Trade customers contact your Account Executive for more information.
For all other inquiries call our Customer Service team on 1300 232 844 or email orders@twlelvebottles.com.au.
Click below for tasting notes:
Semis Bianco Terre di Chieti IGT
Filarè Trebbiano d'Abruzzo DOC
Vignaquadra Pecorino Terre di Chieti IGT