Categories
End summer on a high!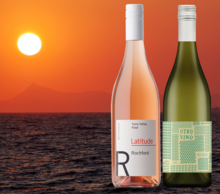 19 February 2021
With our new summer-friendly wines from Rochford and Otro Vino by Stella Bella
Introducing new additions to our popular ranges from Aussie producers Rochford and Stella Bella, the perfect match for easy going summer fare...
2020 Rochford Latitude Rosé
This 100% Shiraz Rosé is fruit of the Yarra Valley's fickle climatic conditions during the 2020 vintage. The challenging conditions meant low fruit yields with an extended ripening period thanks to milder conditions as the season wore on. Hand picked on 2 March, this delicous drop evokes lush, sun-warmed strawberries and rockmelon aromas, with a fruit rich evolution of flavour on the palate. Crisp acidity with a rose petal talc minerality on the back palate with a deliced iced rosehip tea tannin finish. And it's 100% vegan.
See here for tasting notes.
2020 Otro Vino Kazbar Sauvignon Blanc
Not your tipical Sauvignon Blanc, this one is whole berry fermented in open bins, foot stomped and pressed to barrels for 6 months, unfined and unfiltered. 2020 was a classic Margaret River vintage, with a warm, dry summer providing the perfect ripening conditions. The resulting wine is "a fusion of fruit deliciousness", kaffir lime leaf with a splash of pink grapefruit and a musky finish. "Texture, grip and tension with a luscious feel". So... dare we say it? Yeah why not - Rock the Kazbar!
Click for tasting notes.
For more information regarding new products or to arrange a taste, trade customers please contact your Account Executive. All other inquiries please get in touch our office on 1300 232 844 or email orders@twelvebottles.com.au.