Categories
Knappstein Virtual Trade Tasting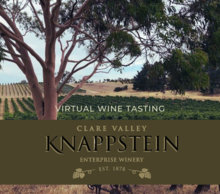 01 October 2021
Discover a Clare Valley Icon, with chief winemaker Michael Kane. Thursday 21 Oct 2021.
Steeped in history and synonymous with the Clare Valley in South Australia, the Knappstein Enterprise Winery has enjoyed a long and revered reputation as a maker of premium wines since it was established by Tim Knappstein in 1976.
Since those pioneering days, Knappstein has developed some of the best vineyards in the region, with a long-standing focus on showcasing the quality of fruit from the individual soils and climates. The winemaking team, led by Michael Kane and consultant winemaker Mike Farmilo, approach their craft with stringent attention to detail, moving steadily towards organic viticulture and a more medium-bodied, fruit-driven style through the lens of diligent, careful guardianship.
Join Michael and Twelvebottles' Managing Director Ian to taste a selection of Knappstein's award winning wines via Zoom link. The session will include an introduction to Knappstein from Michael, followed by a guided tasting of a selection of wines from the Clare Valley, Insider and Single Vineyard series.
12pm, Thursday 21 October 2021.
Registration is free - strictly trade only. RSVP essential.
For more information contact
Milva Mazzuggia | Marketing & Communications Coordinator
milva@twelvebottles.com.au