Categories
New Vintages - September 2021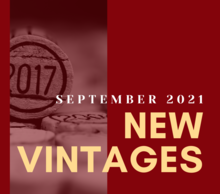 03 September 2021
New vintages arriving in September 2021
Please take note of upcoming vintage changes for the following products:
Mantellassi Il Canneto Sangiovese DOC
Previous vintage 2019 New vintage 2020 Estimated availability w/o 28 Sept
Silvio Nardi Rosso di Montalcino DOC
Previous vintage 2016 New vintage 2018 Available now
Zerella Workhorse Shiraz
Previous vintage 2018 New vintage 2019 Estimated availability w/o 28 Sept
Please regard the date of availability of new vintages as approximate. Whilst we make every effort to ensure the accuracy of the above information, delays may occur in shipping and transport which can result in stock arriving after the estimated date. Any changes to the date of availability will be updated in as timely a manner as possible.
Note that new vintages will be made available only when the previous vintages are sold out