Categories
Vino Aperto 2019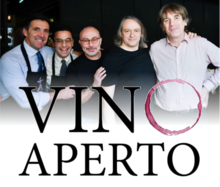 20 August 2019
Italian Wine Trade Tasting at La Rosa The Strand, Mon 2 September. Free entry for trade - register now.
The team from Enoteca Sileno, Godot and Twelvebottles will once again be joining forces for Vino Aperto Sydney - for a taste of even more quality vino, some available
for the first time in Australia.
Taste iconic brands, up and comers, new vintages and brand new releases.
When: Monday 2 September 2019
Time: 11.00am - 5.00pm
Where: La Rosa Restaurant, The Strand Arcade, Shop 133/193 Pitt Street, Sydney
Be sure to pre-register your attendance online to be in the running to win a mixed dozen of the finest Italian wines, and come and experience the very best from Italy.
TRADE ONLY - entry is free. Click here to register.
We look forward to seeing you!