Categories
Milton Vineyard - Tasmania's finest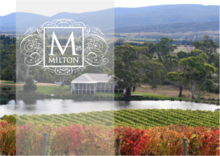 03 September 2018
Twelvebottles is delighted to introduce our line of cool climate wines from one of Tasmania's most historic properties - Milton Vineyard. Winner of the 2017 Tasmanian Vineyard of the Year Award and 2019 Halliday Wine Companion 5 star rated winery.
42 degrees south on the sunny Freycinet Coast of Tasmania, lies one of its most historic properties, a boutique vineyard with all the hallmarks of outsanding quality: warm summers,a unique micro climate and topography that produces, amongst others, an excellent Pinot Noir grape, an aromatic Riesling and a distinguished Chardonnay; modest cropping levels and an award-winning wine making team in John Schuts (Derwent Estate), Justin Bubb and Anna Pooley (Pooley's Wines).
The Dunbabin family have named it Milton Vineyard.focusing on small quantities of handmade wines with meticulous attention to detail, ensuring wines of exceptional quality. This dedication is manifest in the excellence of the wines, which have earned Milton numerous accolates, inlcuding the Royal Agricultural Society of Tasmania's 2017 Tasmanian Winery of the Year Award.
Browse our range below and click on the name for more tasting notes:
2017 Riesling
Delicate, citrus blossom aroma followed by zesty lime and grapefruit and zippy cool climate acids in the mouth.
2016 Pinot Noir
Bright, fresh and lively, silky smooth, elegant and delicious, with a long clean, savoury finish.
2017 Reserve Chardonnay
Elegant, fruit forward style with aromatics of apple and pear and white peach on the palate. Well defined fruit structure framed by rich and creamy French oak.
2015 Reserve Pinot Noir
The flagship. Only the best hand-picked fruit for a wine that's rich and seamlessly silky, seductive and sophisticated.
Contact your Account Executive for more information or to arrange a tasting.