Categories
Twelvebottles EOFY Sale 2019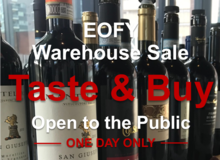 01 June 2019
It's on again - Twelvebottles' End of Financial Year Sale!
When: Saturday 22 June
Time: 10.00am - 3.00pm
Where: Twelvebottles' Warehouse: 11 Goodyear Drive Thomastown
Mark it down in your diary and don't miss the chance to pick up some stunning Italian, New Zealand and Australian wines at unbeatable prices!
Taste before you buy and let the Twelvebottles team guide you through an amazing selection of premium wines and everyday drinks.
Deleted lines, past vintages and premium wines at bargain prices. Shop your favourites from Astoria, Bellavista, Col Vetoraz, Varvaglione, Auntsfield, Rochford, Zerella and many more.
Browse our producers page for a preview of what's available.
Wines starting from as little as $10 a bottle.
We look forward to seeing you!