Categories
Limited Edition Giro d'Italia 2019 Sparkling Now Available!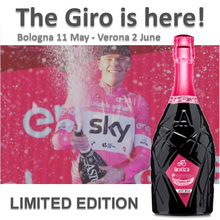 08 April 2019
While riders gear up for the 2019 Giro d'italia, set to take off from Bologna on 11 May, we're already rearing to go with the limited-edition Astoria Giro Spumante Cuvée Extra Dry in stock and exclusive to Twelvebottles!
The Astoria Giro d'Italia sparkling is the official wine of the Giro d'Italia – it'll be savoured by winners at each of the tour's 21 stages until the grand finale in Verona on 2 June.

Crafted from an aromatic grape variety typical of the Treviso province, the wine gives a fine and persistent perlage. Straw yellow colour with greenish reflections, an ethereal and delicate bouquet gives way to a full, dry and harmonious taste.

Contact your Account Executive for information and allocations and get ready to join the ride!