Categories
A refined offering from Astoria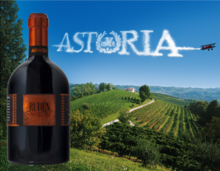 15 August 2018
Introducing Astoria "el Ruden" Veneto Rosso IGT A refined red with intense character.
Twelvebottles is pleased to introduce a distinguished new Venetian to its popular line-up of Astoria wines – "el Ruden".

The rust coloured label ("el Ruden" means "rust" in the Venetian dialect) belies a refined blend of Cabernet Sauvignon, Merlot, Pinot Noir and Marzemino Passito. Dark ruby red colour and intense aroma with hints of wood nicely balancing the spicy notes of the grape varieties. Soft and finely poised taste with a substantial structure and plentiful aromas and tannins.

El Ruden is a well-balanced match for beef, poultry and soft cheeses

Production area: Treviso
Alcohol by vol.: 13-14%
Sugar: 8-9 g/l
Total acidity: 5-6 g/l
Serving temp: 16-18°C

Click here to visit our Astoria page for the full tech sheet.
Contact our sales team for inquiries and a special introductory offer.