Categories
Twelvebottles has moved!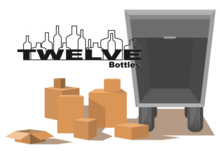 05 December 2017
Twelvebottles has relocated to a new warehouse at 11 Goodyear Drive, Thomastown (Vic).
As much as we're sad to say goodbye to our friends in North Melbourne, we can certainly do with the extra space! The much larger warehouse has already been filled with wines, which we'll continue to supply to all our valued customers with the same prompt, quality service as always.

All other contact details remain unchanged, including telephone numbers and email addresses, so for order inquiries please continue to contact us at 1300 232 844.